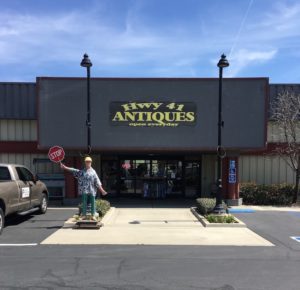 A New Kind of Antique Mall

Highway 41 Antique Emporium is a unique Antique Mall in Morro Bay that features numerous square feet of antiques, novelties and specialties. Aside from the distinctive antiques from many eras, Antique Emporium also has vendors specializing in vintage clothing, modern items, jewelry and fine art. We have the largest Collection of Estate Jewelry on the Central Coast.
Announcement
For Rent – Space for off-site wine tasting room. See flyer below. Call 805-771-8000 for more info.
Below are some pictures of our booths, we have more photos under the various menus.
An unusual circumstance finds us with available space both in booth and locked glass cabinets. If you are interested please contact us ASAP as this will not last long. Inquiries are made daily. 805-771-8000
Largest collection of Estate Jewelry on the Central Coast.
More images to enjoy…
NOW SHOWING TALBOTT FINE ART
BY JOSH TALBOTT

Don't forget we carry gift certificates for purchase.